Amazon have launched their Mac Downloads Store, which will act as a competitor to Apple's Mac App Store. Although the software itself has been available for years, the downloading of the software has now been organised to offer an easier buying experience.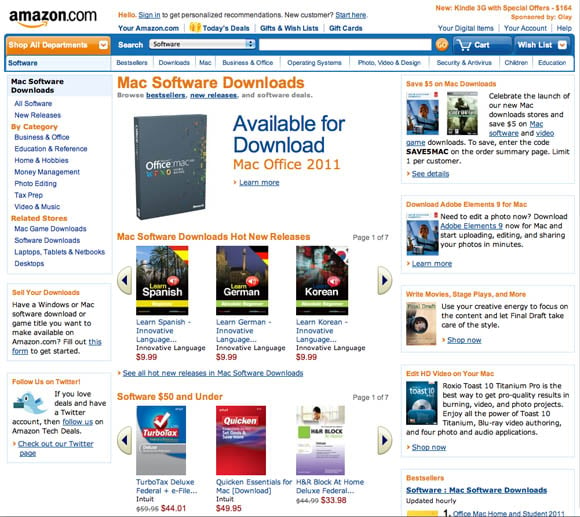 The new Mac Downloads Store is essentially a marketplace for buying and downloading Mac applications. It differs from the Apple store as the Amazon version is not available as a desktop application, therefore stopping the receiving of updates from Mac. This may stop users regularly checking the Amazon store to download software regularly. Furthermore, the store lacks Apple's extensive range with around 250 or so titles, although it does include some titles that Apple lacks. The store includes Microsoft Office for Mac 2011 (home edition: $115, business version: $202), software lacking from the Apple store as it seems unlikely that Microsoft will be willing to pay Apple 30% of its revenue.
Prices do not vary that much from physical versions of the software so there is no major incentive to buy the digital form other than the convenience of immediate download, unless you're using a very slow download speed!
Amazon's Mac outlet also offers users future re-downloads, a feature tied to your Amazon account so if you change Macs you can still reinstall all purchased programs. The Mac App Store also offers this feature but it is a useful tool to notice.
There is currently not UK-specific version of the Amazon Mac Downloads Store as yet, but we expect Amazon to make this move shortly in the future.
The move builds upon recent Apple and Amazon tension over the 'App Store' trademark. Apple sued Amazon  in March due to their launch of the 'Amazon Appstore for Android', claiming that the name may 'confuse' customers.
Though Apple applied for the trademark in 2008, Microsoft argued in January that the trademark was 'too generic to merit a trademark' to the U.S. Patent and Trademark Office. Apple later hit back at both Amazon and Microsoft, arguing that the trademark was not generic and therefore Amazon's 'Appstore for Android' was not an Appstore.
In this continuing rivalry, it is not yet sure how much of the market share Amazon may gain from this move, but consumers will definitely be able to find more variety in the Amazon store. Apple definitely supply certain criterion for the download of certain applications, sometimes coined the 'App Store Police'. If consumers prefer the safety and security of Apple certified products that embody Apple policies, then the Mac App Store is the best means of download for you. Yet if you desire more of an individualistic approach to App downloads, it may be worthwhile to browse what Amazon are offering.