AppleInsider reports that Apple is planning to adopt the newest iteration of 802.11 Wi-Fi standards.
802.11ac offers speeds of up to three times 802.11n, with a purported 1 gigabit transfer, speeds only possible before with hard wire connection. No longer will you need to consider an ethernet connection any faster than Wi-Fi.
The new 802.11ac standard achieves much faster wireless networking speeds than the existing 802.11n specification (in use on the latest Mac, AirPort and iOS devices) by using 2 to 4 times the frequency bandwidth (from 80 to 160MHz), more efficient data transfers through sophisticated modulation, and more antennas (up to 8; existing standards support up to 4, while Apple's Macs currently use up to 3).
Whilst the specifications not yet being finalised, Broadcom has announced a new family of chips that will support the 802.11ac standard. The final specification is expected to reach final certification stages in the second half of 2012.
Despite this minor setback in terms of official certification, Apple (and other manufacturers) have been known to adopt new wireless standards months before they are yet legally certified in the US. The original AirPort Extreme offered 802.11n wireless technology years before the standard certification, but ironically received the lowest amount of complaints of any Apple computer peripheral.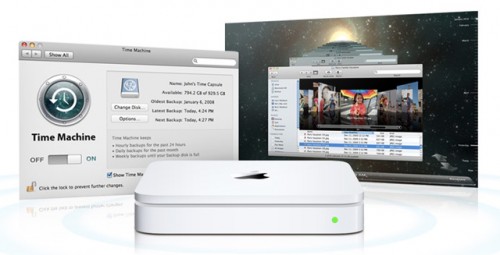 Apple currently adopt 802.11n in all their Wi-Fi-enabled products, including all Macs, iPhones, iPads and iPod Touches, and most recently, Apple TV. New MacBook Pros are expected to be released in the coming months, including the new 802.11ac standard, which would then be rolled out over the entire product range as they are updated.
The main problem, of course, surrounding this new standard is compatibility with existing routers. Homeowners are unlikely to change their network routers just for this new standard that is unlikely to exist on many non-Apple products in the next year, and can only be taken advantage if you have superfast fibre-optic broadband, a luxury only people in urbanised areas have. Of course, the new standard could be useful if you're sharing a hard drive on your network – accessing your files, or even backing up to a network drive can take an age, especially if your bandwidth is concurrently being used.